When it comes to quick and easy dinners, it doesn't get much better than this tasty pepper steak with onions recipe. This delicious combination of sauteed bell peppers, tender steak, and a flavorful sauce is perfect for any night of the week.
The lean round beef is an excellent source of protein and B vitamins and is rich in minerals like iron, zinc, and selenium. All colors of bell peppers are loaded with vitamin C and antioxidants, and depending on the color they're also rich in a variety of phytonutrients. Onions are high in vitamins, minerals, and antioxidants. Pro tip: to cut down on the tear when cutting your onions, chill them for 30 minutes, then cut off the top (don't cut the root end) and peel the outer layers.
This versatile recipe is also perfect for tossing in extra veggies if the mood strikes. Things like orange, purple, or green bell peppers, tomatoes, or a variety of onions can boost the flavor while kicking the nutrition up a notch.
Serve this pepper steak with onions over wild rice, forbidden rice, or cauliflower rice, and top with sliced green onions. This quick, delicious, satisfying dish will have you wondering why you ever considered takeout in the first place.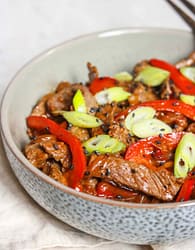 Seasoned Pepper Steak with Onions
This is a quick and easy recipe to make on those weeknights when you're short on time.
Ingredients
12

oz

round beef

trimmed

4

tsp

gluten-free tamari

plus 3 TBSP

1

TBSP

buckwheat flour

2

tsp

coconut oil

1

large

onion

sliced into strips

1

large

red bell pepper

sliced into strips

1

large

yellow bell pepper

sliced into strips

1/2

tsp

black pepper

crushed red pepper flakes

to taste
Instructions
Slice the beef into thin slices. Place in a bowl and add 4 teaspoons of GF tamari, 1 tablespoon of rice wine, 1 teaspoon of buckwheat flour and season with freshly ground pepper.

In a small bowl, mix 3 tablespoons of GF tamari, 1 tablespoon of water and 2 teaspoons of buckwheat flour, then set aside.

Heat 1 teaspoon of oil in a pan on high heat. Add the beef and cook for around 20 seconds letting the beef brown. Next, stir the meat, cooking another 2 minutes and transfer onto a plate.

Add the remaining 1 teaspoon of oil to the pan, add the peppers and onions and cook about 4-5 minutes.

Place the beef back into the pan, add the prepared sauce and red pepper flakes (optional). Stir fry for about 30-60 seconds on medium heat until slightly thickened.

Serve with wild rice, forbidden rice, or cauliflower rice.

Store in the fridge for up to 4 days.