This sparkling mocktail is my go-to drink in the summer, especially when guests arrive because they're so gorgeous. Plus, it's effortless to make and healthy to boot. The beets give them a stunningly beautiful, intense red color. The lemon plays perfectly with the beets, so there is no "dirty" beet taste with these! Even better – I like to make larger batches of the cooked pureed beets and freeze them. This way, I always have some on hand to whip these up with a moment's notice.
I love how every ingredient in this quick-to-make sparkling mocktail has some degree of health benefit. Beets are known for their ability to improve blood flow and lower blood pressure. Lemons are full of compounds that may reduce cancer risk and support a healthy heart. Raw honey (not processed honey) is a phytonutrient powerhouse. Even sparkling water fits the bill by offering potential benefits to your bones and heart.
Side note: not all sparkling water is created equal. As a matter of fact, one of the most popular brands was found to contain high levels of per- and polyfluoroalkyl substances (PFAS) in a study by Consumer Reports in 2020. These chemicals can accumulate in the body, eventually resulting in health issues such as increased cholesterol levels, immune system issues, cancer, and thyroid hormone disruption.
The next time you're considering running to the store to grab some flavored sparkling water, put down the keys. Grab this recipe instead. Your taste buds will thank you, and so will just about every other system in your body.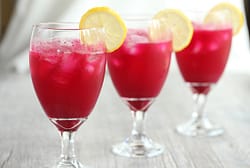 Lemon Beet Sparkling Mocktail
Beautiful, simple to make, and healthy to boot.
Ingredients
2

large

beets

peeled and cut in half (enough to make 1/2 cup purée

1/4

cup

freshly squeezed lemon juice

Zest

one lemon

3

TBSP

honey

32

oz

sparkling mineral water

lemon wedges

for garnish
Instructions
Place beets in a saucepan and cover with water. Bring beets to a boil over high heat, cover and reduce heat to a simmer. Cook beets until soft, about 20-25 minutes. Drain beets and let cool 10 minutes.

Place cooled beets in a food processor and puree until smooth. 

In a small bowl, mix 1/2 cup of the beet puree (freeze the rest for a later use), the lemon juice, zest and honey.

Fill four glasses with ice. Place 1-2 tablespoons of the lemon-beet mixture (more or less to your taste) in each glass. Pour in 8 ounces of sparkling water and garnish each glass with a lemon wedge.
Notes
This also looks beautiful in a large glass pitcher when hosting friends and family on a hot summer day. 
If you're in the mood for something alcoholic, adding a bit of vodka makes for the perfect adult beverage.
Nutrition
Calories:
110
kcal
Carbohydrates:
27
g
Protein:
2
g
Fat:
1
g
Saturated Fat:
1
g
Sodium:
154
mg
Potassium:
458
mg
Fiber:
4
g
Sugar:
23
g
Vitamin A:
45
IU
Vitamin C:
13
mg
Calcium:
33
mg
Iron:
1
mg