Looking for a recipe that will wow? You need to make this Ground Beef & Pork Meatballs Wrapped in Bacon recipe. They are perfect for parties, tailgating, or anytime you're craving bacon wrapped anything!
Super easy to make, these delicious, high-protein meatballs are ready in just about 30 minutes. Perfect for parties, they can easily be prepped ahead of time and tossed into the oven whenever you're ready. No hovering around the stove or trying to visit while working in the kitchen when your guests arrive.
And the beauty of this recipe is the same as every other meatball recipe—they are incredibly versatile. The ingredients are simple and affordable and you can change it up to use nearly any kind of meat, spices, and herbs. If you find yourself out of a particular spice or ingredients, feel free to replace it with something else. When you're making meatballs wrapped in bacon, just about any flavors will work.
Some tips to keep in mind when cooking these meatballs wrapped in bacon:
Use a toothpick to hold the bacon on and help it not shrink off the meatballs as they cook. It also doubles as a convenient handle to grab-and-eat!
Thick cut bacon isn't recommended. It's too thick, so the meatballs can dry out before the bacon has a chance to get crispy. Turkey bacon doesn't work either – it dries out too quickly. Something like this no-sugar variety from Pederson's works great.
This recipe can easily be doubled (or tripled!) to serve more folks.
Between the ground beef, ground pork, and bacon, these can create a decent amount of dripping while baking. To help with cleanup, consider lining your baking sheet with aluminum foil and setting the meatballs wrapped in bacon on a wire rack. This will help the air circulate around the meatballs and let the bacon cook more evenly.
Don't want to use the flour in these meatballs? Try swapping it out for a little freshly grated Parmesan or 1/4 cup of coconut flour.
These meatballs wrapped in bacon are juicy, full of flavor, and so good even the pickiest of eaters will be reaching for more. Add a small bowl of BBQ sauce to dip them in—heaven. (Our avocado dunking sauce is also pretty darn tasty with these!)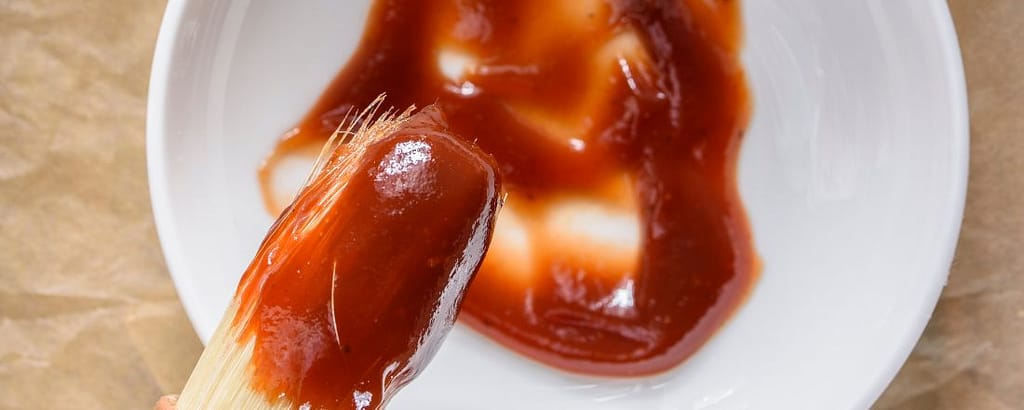 Want to make your own BBQ sauce? Try this quick and easy one from The Healthy Gluten-Free Life cookbook:
Ingredients
1 shallot, finely chopped
1 clove garlic, finely chopped
1 (15 oz) can organic tomato sauce
1 (4 oz) can organic tomato paste
1/2 tsp granulated garlic
1 tsp granulated onion
1 TBSP raw apple cider vinegar
1/2 tsp Wright's liquid smoke flavoring
3 TBSP raw organic honey
1 tsp sea salt
Freshly ground pepper
Instructions
Mix all ingredients in a bowl until combined. Cover and refrigerate for about an hour before using to let the flavors come together. Store in an airtight container in the fridge for one week, or freeze for up to 3 months.
No matter what you dip these meatballs wrapped in bacon in, they are sure to be a hit at your next potluck, party, or Friday game night! Quick, easy, and packed with a ton of flavor, enjoy them as-is or take a little creative liberty and play around with the spices and ingredients. You may just find another combination that you fall in love with that will help keep this budget-friendly recipe on your menu in the future.
Ground Beef & Pork Meatballs With Bacon
What makes meatballs better? Uh, bacon does.
Ingredients
1/2

lb

lean ground beef

1/2

lb

ground pork

1

small

onion

finely diced

2

cloves

garlic

minced

1

medium

red bell pepper

diced

1

egg

1/2

cup

buckwheat flour

1/4

cup

fresh cilantro

chopped

1

tsp

dried oregano

12

slices

bacon

sea salt

to taste

ground pepper

to taste
Instructions
Preheat the oven to 400°F.

Place all the ingredients, except the bacon, in a bowl. Season with salt and pepper and mix well using your hands. Once well combined, form 12 meatballs the size of a golf ball.

Wrap each meatball in a slice of bacon and place on a baking sheet lined with parchment paper. Bake for 20 minutes, or until bacon is done and meatballs are cooked through.

For the last 4-5 minutes, set the oven to broil to crisp up the bacon.