We all need dishes we can prepare ahead of time. Life is busy and there are plenty of nights when there just isn't time to "throw together" some amazing meal. Let alone a healthy one. Fortunately, these gluten free turkey meatballs cover both of those bases.
Not only can you save time by preparing the meatballs ahead of time, but with nutrient-dense ingredients like avocado, green onions, garlic, olive oil, and fresh cilantro, these gluten free turkey meatballs pack a nourishing punch.
Avocados have almost 50% more potassium than bananas, are loaded with healthy fats and fiber, and may even help you better absorb vitamins and antioxidants.
Green onions (also called scallions) and garlic are rich in sulfur compounds and phytonutrients. Including them (and other members of the Allium family) as a regular part of your diet may help protect against cancer.
Olive oil is packed with monounsaturated fats and antioxidants. It has been shown to help reduce inflammation, protect against heart disease, and may even play a protective role in dementia. Remember though, not all olive oil is created equal. This is our favorite and the one we personally use!
Like the others, cilantro is also rich in antioxidants. It has also been shown to be effective at lowering blood sugar and could also be a useful tool in managing dementia.
So make your meals quicker, easier, and more nutritious with these delicious gluten free turkey meatballs. They are sure to be a hit with everyone in your family, young and old alike!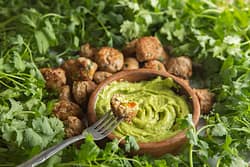 Green Chile Turkey Meatballs with Avocado Dunking Sauce
You can make these meatballs ahead of time, roll them, place them on a parchment lined baking sheet and freeze them until firm. Then store them in an airtight container until ready to use. Just thaw and cook!
Ingredients
Meatballs
2

lb

ground turkey

4

large

green onions

chopped

3

cloves

garlic

minced

14

oz

diced green chiles

1

tsp

granulated onion

1/2

tsp

chili powder

1/2

tsp

cumin

1

tsp

sea salt

1/4

tsp

freshly ground black pepper

1-3

TBSP

olive oil

optional (use if needed to help moisten mixture)
Dunking Sauce
1

large

ripe avocado

1

TBSP

fresh lime juice

1/3

cup

chopped fresh cilantro

1

small

garlic clove

sliced

1/4

cup

olive oil

1/4

cup

coconut milk

1/2

tsp

sea salt

1/4

tsp

freshly ground black pepper

1/2

tsp

chili powder

1/2

tsp

cumin

hot sauce

to taste
Instructions
Preheat oven to 425 degrees. Line a large baking sheet with parchment paper.

In a medium bowl, mix together meatball ingredients. Use some olive oil if the mixture is too dry, to help it stick together. Shape into 1 1/2-inch (about 30) meatballs and place them on the parchment lined baking sheet, leaving some space between each meatball. Bake 25 minutes, turning meatballs once part way through.

While meatballs are cooking, make the dunking sauce. In a food processor or Bullet blender, combine sauce ingredients until smooth and creamy. Adjust and add any additional salt, pepper or hot sauce as desired. Serve meatballs with a hefty serving of dunking sauce on the side!
Notes
For the meatballs, try omitting the green chiles and adding 2 TBSP coconut aminos, 2 tsp toasted sesame oil, and 2 tsp sesame seeds.
For the sauce try omitting the chili powder, cumin and olive oil. Add an extra 1/4 cup coconut milk and 1/2 tsp Chinese 5 Spice seasoning.
Nutrition
Calories:
74
kcal
Carbohydrates:
2
g
Protein:
8
g
Fat:
4
g
Saturated Fat:
1
g
Cholesterol:
17
mg
Sodium:
187
mg
Potassium:
151
mg
Fiber:
1
g
Sugar:
1
g
Vitamin A:
99
IU
Vitamin C:
6
mg
Calcium:
10
mg
Iron:
1
mg